Revive My Glow 2 Steps To Smooth, Soft Skin!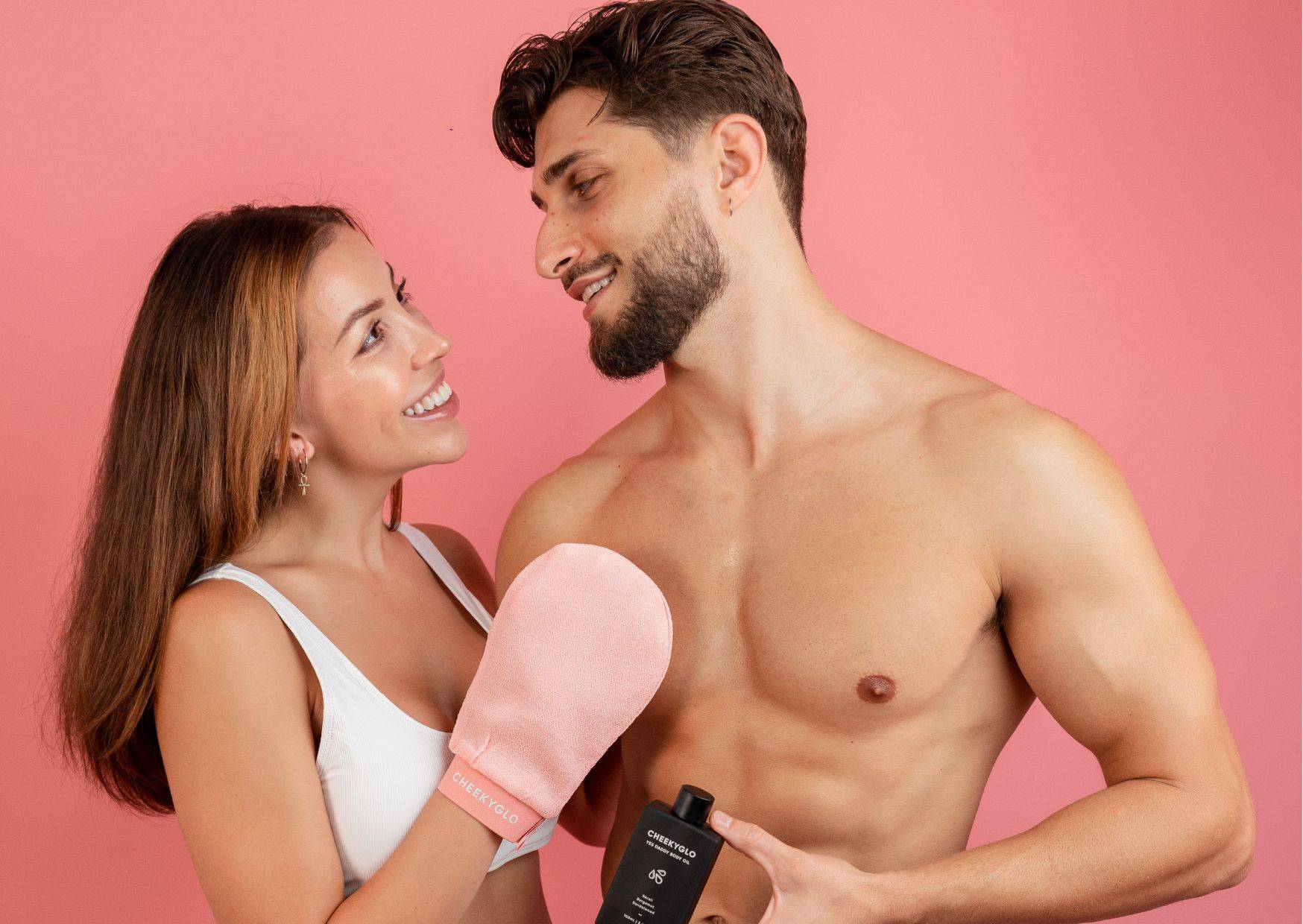 Has your skin been looking dull, lifeless, and lacklustre? Maybe you've been wondering, "Where has my glow gone?".

Don't worry, you're not alone! In fact, one of the most common skincare concerns is dull and dry skin. When seasons change and life starts to get chaotic, stress will start showing on your skin. That's why it's so important to develop a consistent self-care routine, starting with your skin. Personally, my glow can be attributed to the use of just these 2 products!
Revive my glow- 2 steps to healthy, glowing skin.
If you haven't heard of the amazing benefits of exfoliation yet or don't understand how it works, let us fill you in. Exfoliation allows your skin to breathe. Without proper removal of all the dead skin cells, dirt, oil and debris that your skin collects throughout the day, it is very difficult to achieve the glow up of your dreams. Radiant and bright skin comes from the removal of dead skin cells which also help target problem areas like ingrown hairs, keratosis pilaris (chicken skin), and even help lighten scars. By removing layers of clogged skin, you will resurrect that glow that your skin has lost, to glow up overnight.
When the dry and flaky skin is removed, your precious skincare products, like moisturisers and oils seep in infinitely better. More bang for your buck! It's a-win win for your body and your wallet! Now there are many different options for exfoliating your body but a dependable and affordable way to glow up is through physical exfoliation, for astounding results that you can see. Literally.
Exfoliation: it's all in the glove
There are a lot of expensive options on the market, and when you've got many problem areas to target…the costs can really add up. However, one affordable solution that you can rely on is the Original CheekyGlo Exfoliating Glove! It is a holy grail and sits on the top shelf as one of my 2 favourite glow up products to use when my skin is looking rather dull.
It's simple, it's easy, it's reliable.
Did you know that you can also use your CheekyGlo Exfoliating Glove to remove old fake tan?
If you struggle to take off your patchy fake tan, this is your pain-free solution! Simply use this glove in the shower or bath to swipe away stubborn fake tan in seconds!

No chemicals needed, just add water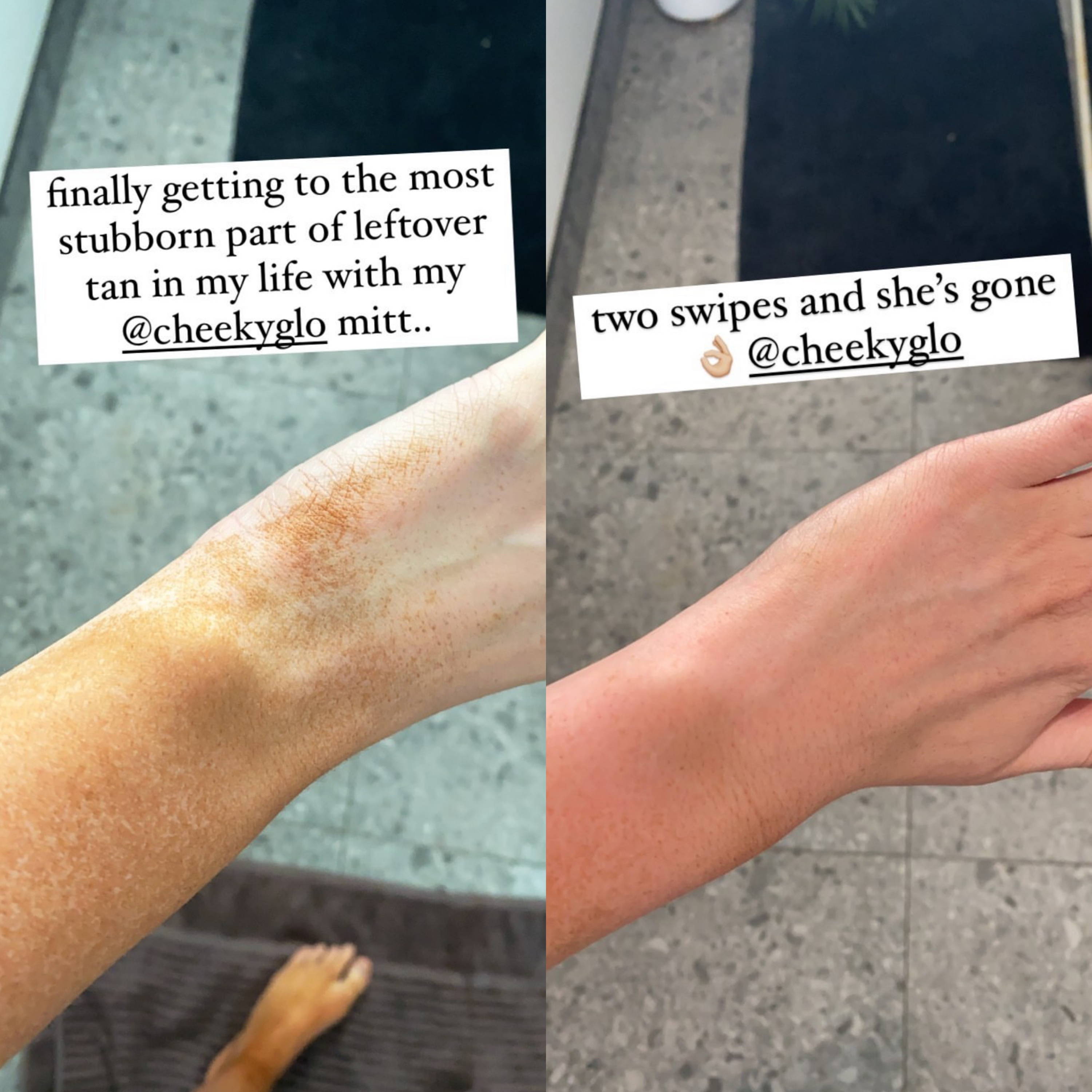 Do you tend to be a bit lazy with hydrating your skin? Many of us are guilty of forgetting one of the most important steps to retaining the glow and plump nature of our bouncy skin. It is just as important to hydrate as it is to exfoliate, to prevent any moisture loss from your skin which would leave it dry again! Simply put, ensuring your skin is hydrated prevents possibilities of other skin problems like extreme dryness or oiliness, cracked skin, flaky, itchy and dull skin.
Especially after using the Original CheekyGlo Exfoliating Glove, this is where the serious glowing begins. Your glove eats up the dead skin and now your crystal clear skin needs some hydration…and fast!
There are questions regarding whether oils or lotions are better for your skin. For maximum hydration and longevity, oils are by far the stronger contender. As oils are an occlusive, it creates a barrier on your skin's layer to prevent transepidermal water loss which often happens while you sleep. Body oils fill up all the dry spots on your skin with soothing lipids that will soften your skin instantly, revitalising the glow that you deserve!
Hydration: it's all in the oil.
Don't know where to get started? Luckily I've got you covered!
Our Juicy Peach Body Oil is hydration in a bottle! This oil keeps skin quenched for days!If you want your skin to look like it's glowing from within, use this after every shower! Plus you'll look as good as it smells!
It's hydrating, it's non-greasy and it's an absolute game changer.
Pro Tip - Your skincare seeps in even better after exfoliation with the glove so make sure to seal all of that in!
See what our customers say..
"Received my order today so naturally I went and jumped in the shower straight away, I was a little sceptical when ordering, but I couldn't be more impressed then what I am, the amount of dead skin that came off was crazy! And the oil smells nice, my body has never felt smoother."

- VERIFIED CUSTOMER STEPHANIE H.