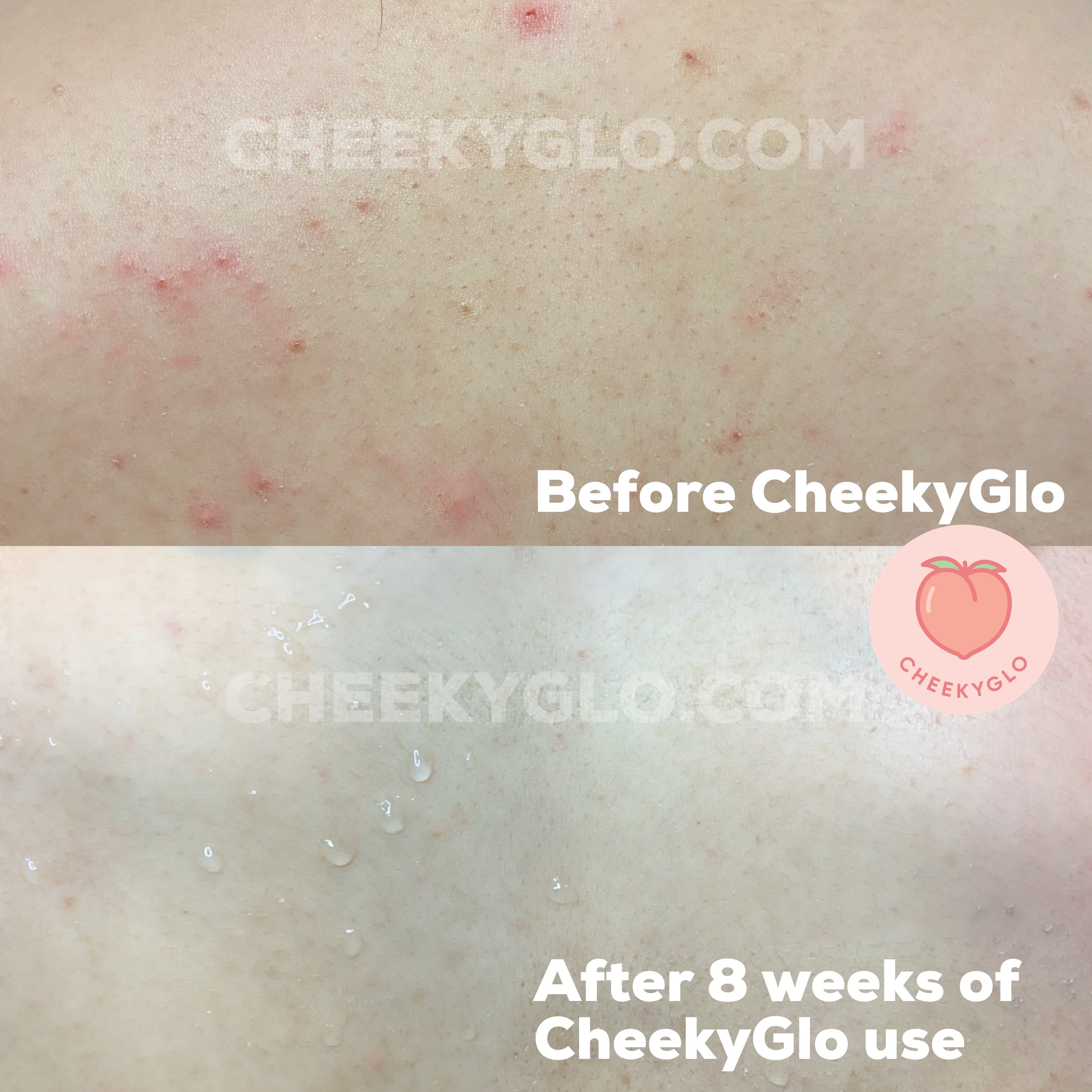 Real People. Real Results.
"I have the softest skin ever after using this! I also feel like my legs look more toned almost, maybe cos of the increased circulation! The face was gentle enough for me, and helped get rid of longer skin flakiness I have around my nose. Great product!"

- Verified Buyer Sharon L.
The Magic Is In The Fabric
The skin on your face is more delicate and sensitive than the skin on your body. To effectively exfoliate both, it's important to use the correct tools to safely experience the best results.

The face+body duo solves all your exfoliation needs, covering you from head to toe! No harsh chemicals needed, just add water to activate the exfoliating fibres on our tools!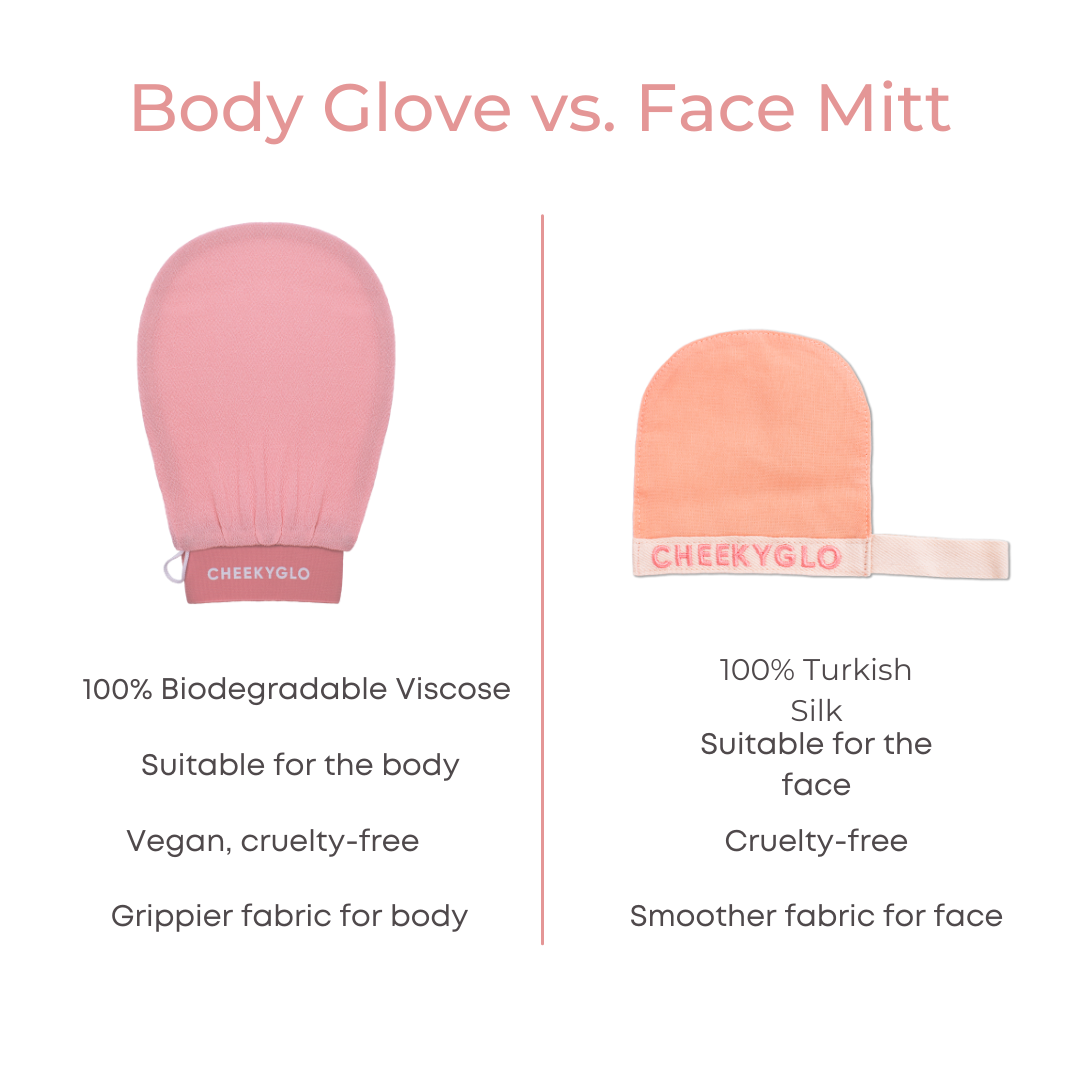 If you're thinking about it, do it!!!
I love love love this product, I personally bought the kit in the attached photo! The make up removers and body oil (amazing stuffs check it out)
The body mitts and face mitt (black for my feet and pink for body) just work so well with my skin type! I thought id be one of the unlucky people to not be compatible but im glad im not. I've never felt so smooth and moisturised! The face and body mitts helped exponentially with my sunburn peels and the oils just helped to bring that moister back in. I've owned this product since early December and saw great change in my skin over my body and face even before my sunburn. It's painless and leaves your skin feeling clean and amazing even before you add the oils.
This is genuinely a great product! The face mitt, the body mitt, the whole kit and kaboodle, seriously.
Couldn't recommend them more.
10/10 Cheeky Glo <3
You know that scene from the movie When Harry met Sally…..
If you are too young to know find it on Netflix...anyway just before the
"I'll have what she's having" line, was the noise Was making peering into the 40x magnifying mirror -we all have one! Checking out how smooth my skin was after
using the face exfoliator for the first time. THIS WAS A DREAM. For a gal with dry skin that constantly flakes and peels and has spent $1000's of $$ on product and laser services to assist my cause of that gorgeous dewy glow- I AM HOOKED.
Excellent
Have been using for the past two months, definitely have seen improvements in my dry scaly skin.
Wow
I was really hesitant in buying this because it seems really expensive for 2 exfoliating gloves, but I am impressed after the first use. I followed instructions and stood in the shower for 10 minutes without using any soap. I used the face one first and there was some visible skin coming off in small rolls. Then I did my legs and omg, so much dead skin came off. It was so satisfying. Now my face and legs are so soft. I can't wait to use them again.
Excelent dúo
I really like the way my skin is starting to feel. More smoothly and less bumpy.
BOTH AMAZING!!!!
So i bought this set with some other products and oh my goddd! The body exfoliating glove made me body so much smoother,brighter, soft and even gave me an even skin tone everywhere even my knees and armpits. It also made me shave my body a lot easier and i just loved the results.
The exfoliating face glove is just literally the same it made those black little black dots on my nose disappear, my skin felt so smooth and soft it looked clearer,brighter and it felt amazing definitely recommend for everyone!!!!!
As Seen On
Frequently Asked Questions